Simplicity 2665 pants
One of my recently completed projects is a pair of pants for my daughter from Simplicity 2665. It has a faced waistline with sewn-on patch pockets in front, and darts in the back. She has a pair of RTW pants in a similar style (just not so flared) and finds them very comfortable - no straight waistband(!).
Here is my review.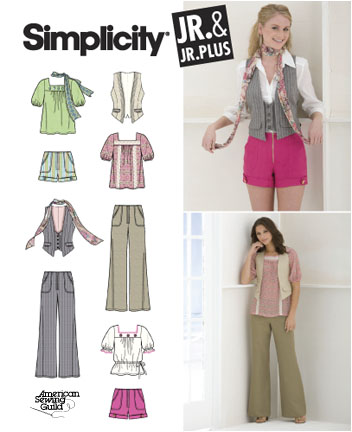 Pattern:
Simplicity 2665
Pattern company's description:
Juniors'/Juniors' Plus pants or shorts, top, vest and scarf
Available sizes:
5/6 to 15/16 (Note: these are not ages!)
I made size:
7/8 with adjustments
Recommended fabrics:
Denim, pinwale corduroy, pique, poplin, twill, sateen
Fabric used:
100% cotton twill
Resemblance to envelope photo:
Vaguely similar to photo, quite close to drawing
Pattern instructions:
The instructions are detailed and thorough, although I did some things differently.
Changes:
I tissue-fitted the pattern to get some practice with fitting a figure that isn't my own.
I let out the inseams and lengthened and deepened the back darts to fit Anna's shapely derriere (aka sway back, but I don't like that term).
I also let out the waist a bit.
I shortened the legs by about 3".
I lined the patch pockets instead of folding over and pressing the edges.
I added belt loops and a lot of topstitching.
I added pocket flaps to the back (no pockets though - just for show).
Likes and/or dislikes:
My daughter really likes these pants and finds them very comfortable. EXCEPT the zipper. Instead of using a regular fly, Simplicity has you insert an exposed "novelty zipper" with topstitching around the edges. Because these were the first zippered pants I've made in a very long time, I decided to go with their directions instead of trying to modify the pattern. The zip is very uncomfortable and scratchy. I decided to make a fly shield from the cotton fabric I used for the pocket linings and to retrofit it to the back of the zip opening. I will adapt the pattern to use a fly front.
Will I sew this pattern again?
Yes, my daughter wants more! She is very pleased with the fit and the fabric.
Do I recommend the pattern?
Yes, but be aware that the pattern sizes are more similar to Misses' sizes than to children aged 10-14. When I bought the pattern, I thought the sizing referred to ages - 9/10 = age 9-10. This is how Burda's Junior sizes work, and they are a very close match to my daughter's measurements. I couldn't understand why the pattern measurements were so "off" until I looked up the measurement table on the Simplicity website. The Simplicity Junior sizes are much closer to Misses' measurements with a very defined waist and full hips. My daughter (10 years old) has a wider waist and smaller hips. I am glad that I knew how to fit and adjust the pattern and could do this before cutting the fabric, otherwise the pants would not have fitted.
Note: I compared the Simplicity measurements to the Jalie jeans pattern envelope measurements and they don't overlap at all. Which confirms my feelings that the "Junior" sizing is weird. My daughter fits very neatly into Jalie's Q size.
[Photos soon - pants are in the wash]